Search Our Archives
Browse the University Archives Holdings Database
To use materials marked as "prior request preferred" please contact us at least one business day in advance. Thank You!
Women in Science Lectures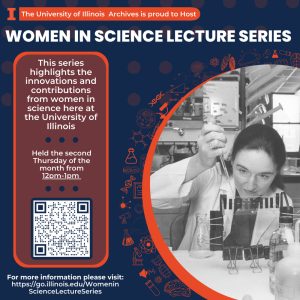 The University of Illinois Archives is hosting a monthly Women in Science Lecture Series that will feature speakers from across the University of Illinois at Urbana-Champaign's diverse and multidisciplinary scientific enterprise. The lecture series seeks to highlight the important innovations and contributions of women in the sciences at the University of Illinois, and center the importance of documenting women scientists and engineers to create a diverse and inclusive archival record. This hybrid lecture series will take place at the University Archives in the Main Library, Room 146 and over Zoom on the second Thursday of every month from 12:00 to 1:00 pm CST.
For a list of speakers and to register please visit our website.