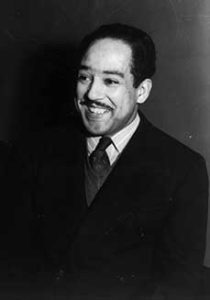 Langston Hughes (1902-1967) was an American writer, known for his poetry, novels, newspaper columns, and dramatic works.  As an African-American, his work often explored themes and situations relevant to the black experience in the United States. Hughes was raised primarily in Lawrence, Kansas by his maternal grandmother. In 1915 he left his grandmother's home to live with his mother and stepfather in Lincoln, Illinois. It was in Lincoln that Hughes' future as a poet began.  Hughes was heavily influenced by the music of his time. Music provided him with stanza forms, rhythms, symbols, and themes he would use in his writings.
The poetry of Hughes has been widely published and analyzed by critics, academics, and students, and it is no surprise that Hughes enjoyed a good relationship with American colleges and universities. Hughes made a side career of speaking engagements at schools, beginning around 1929, when he made a number of visits to colleges in the American South at the advice of Bethune-Cookman College founder Mary McLeod Bethune.
On November 8, 1945, Hughes paid a visit to the University of Illinois Urbana campus, giving a guest lecture at Gregory Hall, hosted by Gamma Chapter of Alpha Kappa Alpha sorority.  Hughes spoke on his early poetry career, and read a few poems, including "Dressed Up," "Brass Spittoons," and "When Sue Wears Red."  Hughes used his poetry to highlight aspects of contemporary African-American life, including racial divides and intolerance.  At a reception in his honor that evening, he spoke of the need for a novel on "Negro life," as opposed to publications about interracial politics.  "I hope that soon someone will write a novel dealing with the cultural side of Negro life," meaning the everyday lives of African-American college students and members of the upper-class.
In March 1957, Hughes made a more extensive visit to the campus, during the University of Illinois Festival of Contemporary Arts, which that year featured the world premiere of his second operatic work Esther.  This exhibit explores the background and events related to this visit through historical documents and contemporary accounts.