Main Exhibit Page | Esther| Gregory Hall Lecture | Exhibit Sources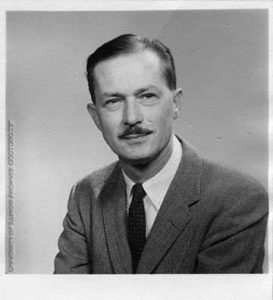 J. Kerker Quinn
John Kerker Quinn (1911-69) arrived at the University of Illinois in 1936 as a graduate student and later became an assistant professor of English (1936-69), editor of Direction (1934-35) and Accent (1940-1960). Early in his career as an English professor, Quinn founded the independent literary magazine Accent. This "little magazine" was responsible for nurturing the careers of many noteworthy American authors, including E.E. Cummings, Richard Wright, Sylvia Plath, Henry Miller, and Langston Hughes.
Langston Hughes submitted a number of his poems for publication in Accent before his first visit to the University of Illinois in 1945. This previous contact between J. Kerker Quinn and Langston Hughes was probably instrumental in arranging the writer's guest lectures in 1945 and 1957.  Their professional relationship was strong enough that it was Quinn who introduced Hughes at the 1957 talk and received Hughes' thank-you letter following that visit.
The Festival of Contemporary Arts (1948-1974)
For many years, Quinn served on the planning committee for the University's Festival of Contemporary Arts.  The first University of Illinois competitive exhibition of contemporary American painting was held February 29 – March 28, 1948.
With the help of university president George D. Stoddard this competitive exhibition laid the foundation for what was to become the Festival of Contemporary Arts. The recurring exhibition of contemporary paintings evolved over the years, eventually incorporating presentations in music, dance, theater, film, architecture, landscape architecture, and urban planning, as well as the fine arts, from significant artists such as Benjamin Britten, Karl Zerbe, and Kenzō Tange. The university held fifteen festivals over a period of 26 years, at first annually, and then biennially starting in 1953, as the organization of the ever-growing Festival became too overwhelming to take on every year.  The purpose of the Festival was to demonstrate the leading edge of a wide variety of creative fields, including art, architecture, dance, literature, film, music, and theatre, by means of exhibitions, lectures, gallery talks, and performances.  The 1957 Festival featured many innovative dramatic works sponsored by the Fromm Foundation, such as the premiere of Harry Partch's dance satire The Bewitched.  That year's program also included the world premiere of the Jan Meyerowitz opera Esther, featuring a libretto by none other than Langston Hughes.
continue to Esther