Main Exhibit Page | Quinn and the FOCA | Gregory Hall Lecture | Exhibit Sources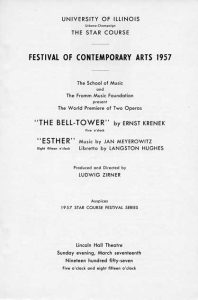 The three-act opera Esther was the latest collaboration between Hughes and composer Jan Meyerowitz.  As a German Jew, Meyerowitz sympathized strongly with themes of intolerance and oppression in Hughes' work, and had already set a few Hughes texts to music by the time the two men met in 1947.  Shortly thereafter, the two began collaborating, creating the 1950 opera The Barrier, and biblically-derived works such as the 1954 oratorio "The Five Foolish Virgins," based on a tale from the book of Matthew.  When Meyerowitz was commissioned by the Fromm Music Foundation of Chicago to dramatize the biblical story of Esther, he invited Hughes to write a libretto to his score.   Despite their often challenging working relationship, Hughes accepted the invitation.  Although Hughes was fond of Meyerowitz, their partnership was often punctuated by outbursts from the hot-tempered composer, directed towards agents, musicians, and even Hughes himself.  Shortly after Hughes wrote a letter to Meyerowitz on business matters related to Esther, the composer called early in the morning to exclaim "You have fouled up my whole morning with that lousy letter of yours, I cannot write a note!"  Soon after, Hughes warned a friend "If you want to die, be disturbed, maladjusted, neurotic, and psychotic, disappointed and disjointed, just write plays. Go ahead!"
The premiere of Esther was held in Urbana on March 17, 1957, to coincide with the Jewish holiday of Purim, which commemorates the events recounted in the biblical story. The date also fell during the University's Festival of Contemporary Arts, held every other year in the spring on the University Campus.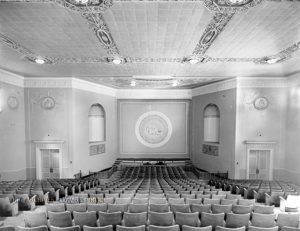 Esther premiered at 8:15 pm, in the Lincoln Hall Theatre, following the world premiere of Ernst Krenek's The Bell-Tower, adapted from Herman Melville's short story of the same name.  Esther was produced and directed by Professor Ludwig Zirner, Director of the Opera Workshop of the University of Illinois, and the costumes were designed by his wife Laura Zirner.  The cast, crew, and orchestra drew heavily from the School of Music faculty.
Hughes considered the premiere of Esther a success; that evening he wrote a friend that "it came off right well – like a Sunday School card set to music."  A review in the Daily Illini praised the "powerful" libretto, cast, and musical settings.  The Chicago Daily News called it "lyrical, emotional, theatrically direct," and recognized the "musical aplomb and stage wisdom" of the cast, "ingenious" stage management, and "extraordinary style and flare [sic]" of the costume design.  Although well-received, Esther was not performed often, probably only once more, in Boston in 1958, produced by the New England Conservatory of Music.  A recording of the Urbana performance can be found in the School of Music Audio Department Sound Recordings at the University's Sousa Archives and Center for American Music.
continue to Gregory Hall Lecture