By Lindy Smith, Research Service Archivist, The Ohio State University, and former Graduate Assistant, Student Life and Culture Archives.
Long before the OSU-Michigan game ended play for the regular season, it was a tradition for the Illini-Buckeye rivalry to bring things to a close. From 1921-1933, Ohio State and Illinois met to play their final games.
In 1925, OSU's junior honorary, Bucket and Dipper, decided to spice up the series with the introduction of Illibuck, a turtle who was awarded to the winner of the past year's meeting between the two teams. Illinois' junior honorary, Sachem, got in on the fun, and the Illibuck is passed back and forth between the teams to this day. Bucket and Dipper and Sachem regularly travel back and forth to games to meet with their corresponding organization and escort Illibuck. The name was chosen because it combines parts of both schools' nicknames.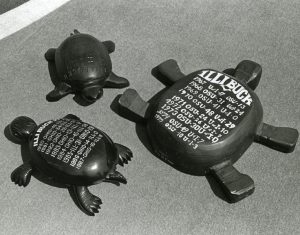 In addition to the Illibuck, the rivalry's traditions include a ceremonial peace pipe, which is shared by the two honoraries at halftime. According to a 1966 article in The Daily Illini, the ceremony occurred as follows: "Two groups of students one from each school, will meet in the center of the gridiron, shake hands, smoke a peace pipe and drink from a wooden bucket. Then the Illini will give the OSU group a turtle named 'Illibuck.'"
The turtle was chosen because of its longevity but, in an ironic twist, the first Illibuck, a snapping turtle purchased in a Columbus pet store, suffered from the stress of being passed back and forth between Columbus and Champaign and passed away after only two years. Before his death, he spent his two years living in various fraternity houses and campus buildings at the University of Illinois, even briefly sharing space with an alligator in the Natural History building. He was much celebrated and beloved around campus.
The modern Illibuck is made of wood and is replaced as his shell fills up with scores from games featuring the two teams. Today's game will be the 99th time the two have played since they first met on the field in 1902. Ohio State currently leads the series, 63-30-4, but Illinois has been known to pull off surprising upsets against the Buckeyes, and the Illini have won 7 of the past 11 games held at the Shoe.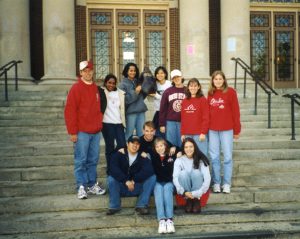 If you happen to be on OSU's campus, you can stop by the University Museum on the first floor of University Hall to see an Illibuck on display.
To read more about the history and adventures of Illibuck, look in the digital archives of The Daily Illini http://www.library.uiuc.edu/idnc (UIUC's campus paper) and The Lantern http://go.osu.edu/lanternarchives  (OSU's campus paper).