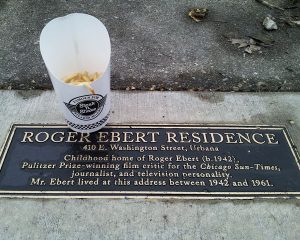 He was beloved and respected by millions, unless you happened to be one of the unfortunate filmmakers who earned a "thumbs down" from Roger Ebert during his long and illustrious career as a Pulitzer Prize-winning film critic. Ebert's passing on April 4, 2013 has been mourned by friends and followers across the globe. Attendees of Ebert's 15th Annual Film Festival, which begins this week and runs April 17-21 at the Virginia Theatre in Champaign, will certainly long for Ebert's presence.
An Urbana native, Ebert attended Urbana High School and then the University of Illinois, graduating with a Bachelor's Degree in Journalism in 1964. One can still walk past Ebert's childhood home at 410 E. Washington St. in Urbana, where fans and friends have created a make-shift memorial to the critic, leaving behind flowers, popcorn and the Steak 'n' Shake treats that he so enjoyed at the plaque designating Ebert's childhood home.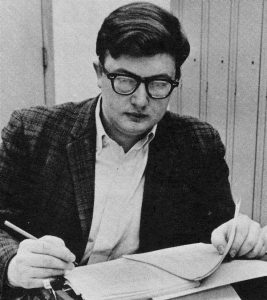 Many people forget that Ebert was a student journalist during his time at the University, rising to become editor of the Daily Illini during his senior year. Based partially on research done in the University Archives, Ebert also collected news articles, editorials, and even advertisements for a book entitled An Illini Century: One Hundred Years of Campus Life which was published in 1967. In the introduction to An Illini Century, Ebert, who seemed to have a bit of an archivist in him, recalled how the book came to be. As DI staff was thumbing through early, crumbling editions of the paper from nearly one hundred years ago, Ebert wrote:
"From these perishable items of daily journalism, an eaves-dropper of later years might obtain an idea of the day-to-day life of a great university: the achievements, disappointments, controversies, and trivia which together made up the undergraduate experience of thousands of Illinois students."
Ebert's eloquent words aptly state the responsibility of the University Archives. Documenting and making available the successes, failures and controversies of this great land-grant institution is what allows for much-needed transparency for University students, staff, faculty and the residents of Illinois. Thanks to the financial support of our Student Life and Culture Archives, we have  indirectly  addressed Ebert's concern back in 1967–the Daily Illini (from 1874-1975) has been digitized and made freely available to anyone with an Internet connection here.
Currently, the University Archives holds the Roger Ebert Papers, 1995-2001 containing videotapes of the "Siskel and Ebert" and "Roeper and Ebert" television shows. It is also interesting to see where else Ebert's name "pops" up in the Archives' holdings. For example, Ebert had a long-time collegiate and professional relationship with Daniel Curley, a professor of English at the University from 1955-1988. Curley was very much a mentor to Ebert and in 1986 they wrote The Perfect London Walk together, a travel book based on London walking routes. The relationship between the two resulted in extensive correspondence, documented in Curley's Papers, which shows an enduring friendship. In the letters, the two men reminisced over beers they had shared and discussed the pleasures of baseball double-headers. Ebert also briefly corresponded with University Professor of Russian Language Stephen Hill, on Hill's research interest regarding pornography in film.
These records allow fans and researchers to understand different facets of this journalism giant. Thanks in part to the University Archives,' Ebert and his legacy will not be forgotten.