One of four posts written for "WWI and Champaign County" of the Town & Gown Speaker Series, a collaboration between the Student Life & Culture Archives and the Champaign County Historical Archives.
Research for this post contributed by Maggie Cornelius.
University of Illinois students found multiple ways to aid the Allies in Europe prior to the U.S. entry in April of 1917. Among the students who traveled to war zones was a committee of volunteer ambulance drivers. On May 15, 1917, over twenty Illini men set sail for France to help deliver the wounded from the front to military hospitals.[1] The chairman of this Ambulance Committee was Christian "Chris" Gross. An agriculture student and a member of the Daily Illini editorial board, Sigma Delta Chi, Alpha Gamma Rho, and Psi Upsilon,[2] Gross organized and sent volunteer ambulance drivers to Europe for a six-month stint.
In order to fund its mission, the Ambulance Committee solicited local businesses, held a dance at the Illini Union, and traveled to Chicago to ask for donations from wealthy Chicagoans. The University YMCA also held a fundraising dinner and Campus Red Cross volunteers contributed to the Ambulance Committee by making "comfort bags" that contained toiletries and small treats for the drivers.[3] After a competitive enrollment process and a send-off ceremony led by Dean Babcock, the Illini volunteers joined the war effort on the western front.[4]
Upon arriving in France, the men attended a training camp in May-en-Multen where they cleaned the mill and learned the French military's salute and march. The Ambulance Committee was assigned to the first American Field Service ambulance unit that replaced the French Army's: Section 65 of the American Field Service. Section 65 included volunteers from other universities and four Berliet ambulances that fit 6-10 people each. In July, volunteers first experienced the "thrills of modern warfare" when they drove wounded soldiers from rescue posts (posts de secours) to field and base hospitals. Although volunteers did not carry the wounded from the battlefields to the rescue posts, they witnessed first-hand the explosion of shells and the garlic smell of poison gas.[5]
Harold M. Page traveled to Europe with the Illinois Ambulance Unit in the spring of 1917.  In a letter to Dean Clark dated September 1, 1917, Page put his student editorial skills to good use:
We work 48 hours at a time. We see much of suffering and waste and blood and pain; we smell powder and drugs and wet blankets and trench mud, we contemplate the price that's paid for every trench when we see the human scrap that's thrown back for us to pass on back to the discard. It gets to you; it's depressing and maddening sometimes. Now, with this as the routine for 48 hours what do you think a fellow is going to want to write about when he writes. It's going to be anything else in the world. Why we don't even talk about the work among ourselves. We always inquire eagerly about how things are at the poste, for there's always that one dreaded possibility. Then we want to know if firings light or heavy and if there are many or few blesses [wounded] and that's all. We talk about everything else under the sun but ourselves and our work."[6]
Correspondence was sparse and erratic, and Illinoisans waited in anticipation for news of the Ambulance Committee. In August, a rumor circulated that Gross and two other members of the Committee had been seriously wounded or killed. The Chicago Tribune sent an inquiry to Paris to verify the rumor, and Gross responded by telegram to disprove the rumor in September. He reassured the Tribune that "not an Illinois man received even a scratch," and joked that "the moment I heard of the death, I knew it was a lie."[7] Unfortunately, this was not true for all Section 65 men. In the summer of 1917, Harvard man Paul Bentley died after a German shell hit his ambulance and wounded him.[8] Later that year, friends of Bentley purchased an ambulance to memorialize the fallen volunteer. Gross and the rest of Section 65 donated, and the ambulance was sent to the European war zone to continue Bentley's work.[9]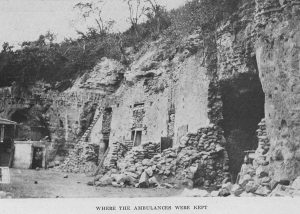 After its July mission, Section 65 was awarded an exceptional service award—the Croix de Guerre—which Gross attributed to Illini men who "outclassed" others from Yale and Cornell.  Harold M. Page briefly notes this award in his letter to Dean Clark: "You have heard, I suppose, that the section received a citation.  I was decorated with the Croix de Guerre at Epieds on Aug 7.  It was a beautiful ceremony; the band played the Star Spangled Banner and Le Marseillaise, they said a bunch of nice things about our work and we were very happy, partly because only 3 other sections have ever been given the cross en sections."[10] Although all Illini volunteer ambulance drivers returned from the war, correspondence to Dean Clark, family, and friends gave insight to the danger, gruesomeness, and terror that Section 65 witnessed.
Three Illini men from Section 65 enlisted in the U.S. Ambulance Service at the end of their volunteer stint: Chris Gross, Ray Gauger, and Milt Silver.[11] Prior to enlisting, Gross returned to the States to receive a Captaincy for his service with the American Ambulance Corps. In 1918, he attended officer's training at Camp Grant. He became a First Lieutenant in 1919 and served in Vladivostok, Siberia.[12]
[1] "Ambulance Corps Says Farewell," Daily Illini, May 11, 1917, p. 1.
[3] "Get $3,750 for Ambulance Fund," Daily Illini, April 29, 1917, p. 1.
[4] "Ambulance Corps Says Farewell," Daily Illini, May 11, 1917, p. 8.
[5] Arthur A. Daily, "And We Got the War Cross, "Illio, 1919.
[6] Harold Meredith Page to Dean Clark, War Service Records, 1917-19, Record Series 41/2/17, Box 24, University of Illinois Archives.
[7] "Illinois Ambulance Men Outclass Others–Gross" Daily Illini, November 21, 1917, p. 8.
[8] Arthur A. Daily, "And We Got the War Cross,"Illio, 1919.
[9] "Chris Gross Gives $50 to Paul Bentley Fund," Daily Illini, December 15, 1917, p. 5.
[10] Harold Meredith Page to Dean Clark, War Service Records, 1917-19, Record Series 41/2/17, Box 24, University of Illinois Archives.
[11] "Chris Gross '17 is Now Somewhere in the States," Daily Illini, November 15, 1917, p. 3.