Despite the Brown v. Board of Education decision in 1954 that declared state laws establishing separate public schools for black and white students unconstitutional, de facto segregation persisted without sanction of law.  Throughout the country in the late 1960s and early 1970s, African American college students participated in social movements to influence institutions of higher education that systematically marginalized minorities. Encouraged by Black Power, a political movement that emphasized creating black political and cultural institutions to promote black collective interests and values, students across the country demanded fundamental changes to campus curricula, policies, and structure. Institutions of higher education went through a period of rapid educational reform during this time, not only because of legislative mandates and administrative policies, but as a result of social pressure.
Champaign-Urbana's attitude towards race in the early and mid-twentieth century had more in common with the south than its northern neighbors: restaurants, barbershops, and theaters remained segregated through the mid-1960s. Conforming with the surrounding culture, University residence hall housing remained unavailable to African Americans until 1945. Of the 30,000 students on campus in 1967, approximately 300 were African American. [1] According to Joy Williamson, "Black students of the Black Power era entered an environment that was at best benign and at worst overtly hostile" at the University of Illinois. [2]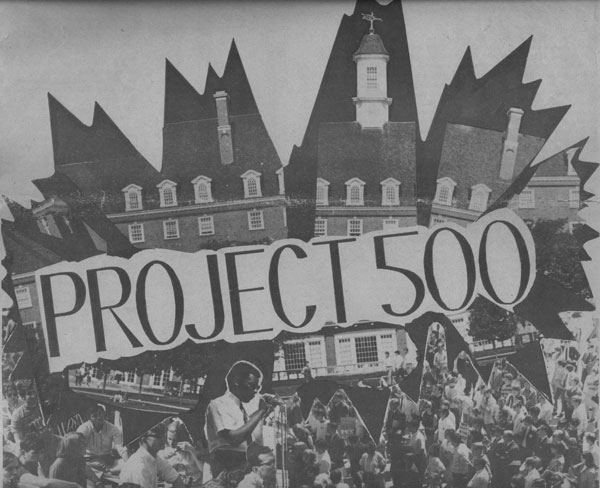 Special Educational Opportunities Program (Project 500) was the first concerted effort at the University to offer equal educational opportunities to all Illinois residents. Motivated by the assassination of Reverend Martin Luther King Jr. in 1968, students and community members urged the University to enroll students traditionally underrepresented on campus. The following autumn, the University admitted 565 additional African American and Latino students.
Regrettably, details of Project 500 were poorly executed. Transportation between Chicago Airport and the University fell through, stranding incoming students at the airport for hours. Despite the large number of students accepted under Project 500, the University lacked necessary scholarship funds and acceptable housing for all the admitted students. These issues led to a sit-in at the Illini Union on September 10, 1968 which resulted in the arrest of roughly 240 African American students. One participant stated, "We know that we're guinea pigs.  We've been guinea pigs all our lives, but now we have the chance to get an education and we're going to get it." [3] With approximately 50% of Project 500 students awaiting court hearings for their involvement in the sit-in at the Union, Project 500 was off to a rough start.
By late 1968, the newly established Black Students Association had experienced leaders, the will to protest, a solid communications system through the Daily Illini, and a growing list of demands grounded in Black Power principles. University administration received the list of demands in February of 1969. The document published in the February 18, 1969 issue of Black Rap listed 35 demands. The manuscript located in the the Student Life & Culture Archives lists 41 demands [4], including that the administration drop all charges against students arrested at the Illini Union sit-in, recognize the Black Students Association by allocating a budget, hire African Americans in 50% of non-academic positions, fulfill its financial commitment to students accepted through Project 500, and establish an autonomous African American Studies department.
Though the administration anticipated some of the demands based on previous campus incidents and wider societal unrest, this document was a catalyst for considerable changes within the University, including the eventual establishment of the African American Cultural Center, the Black Graduate Student Association, and the Department of African American Studies.
For more information about the history of African Americans at the University of Illinois, the Student Life & Culture Archives offers a Guide to African American Research Resources.
---
[1] "CRJ Reports: Project 500," Walrus, (vol. 2, no. 1), p.2, record series 41/66/869, University of Illinois Archives.
[2] Joy Ann Williamson, Black Power On Campus: The University of Illinois, 1965-75 (Urbana, Illinois: University of Illinois Press, 2003), p. 3.
[3] "Soapbox…,"Daily Illini, September 13, 1968, p. 17.
[4] University of Illinois, Student Organizations Publications, 1871-, Record Series 41/6/840, Box 6, Black Students Association.