By Bethany Anderson and Jessica Ballard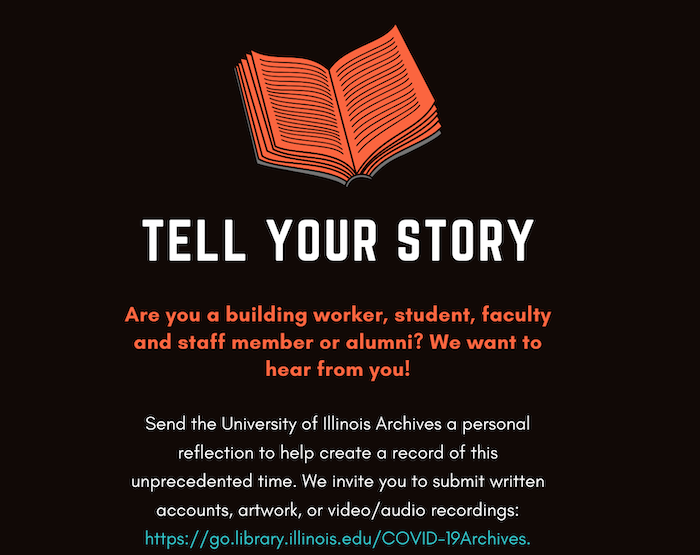 A photo of a desolate street. A video journal entry. A student's hip hop performance. A screenshot of a Zoom meeting. These are but a few examples of submissions that the University of Illinois Archives has received as part of a call to the campus community to share their experiences during the COVID-19 crisis.
Over the last few weeks, life at the University of Illinois has drastically changed in response to Governor Pritzker's "stay-at-home" order: students and faculty have shifted in-person courses to remote instruction; most staff are working remotely in their homes; and meetings that were once in-person are now conducted primarily by video conference. The impact of these changes to daily life has been profound and disruptive. What's become clear is that the COVID-19 pandemic is affecting every part of the University of Illinois community–from building workers to students, faculty, staff, and alumni–and it is affecting everyone in different ways.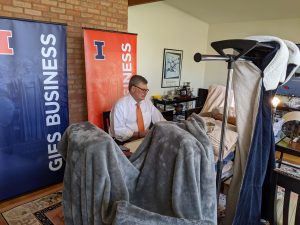 We are living in an unprecedented time, one which future researchers will want to study in order to understand what it was like to live through this pandemic. The Archives wants to ensure that these experiences are captured and preserved for future generations, whether they are in the form of artwork, an email to a colleague, a photo of one's remote workspace, or a written or recorded snapshot of one's experience at a specific moment in time.
Consider sharing your story with the Archives. Submissions may be made through this form: https://go.library.illinois.edu/COVID-19Archives. The form will remain open through December 31, 2020, but the deadline may be extended if needed. Submissions may also be anonymous. Your submission does not necessarily need to be a digital item–the Archives is also accepting physical items for donation once we resume onsite operations.
Please contact Bethany Anderson (Natural and Applied Sciences Archivist) and Jessica Ballard (Archivist for Multicultural Collections and Services) with questions about this initiative.