On May 25th, 1961, President John F. Kennedy called for the nation to "commit itself to achieving the goal, before this decade is out, of landing a man on the moon and returning him safely to Earth."
On July 20, 1969, Apollo 11 successfully landed on the surface of the moon, and 6 hours after landing Commander Neil Armstrong became the first person to step onto the lunar surface. This July 20th will mark the 50th anniversary of that historic event, and in honor of that day, a University of Illinois Archives exhibit calls attention to alumnus John C. Houbolt (B.S. 1940, M.S. 1942). For without his work and advocacy, the brave Apollo 11 astronauts would never have made it home.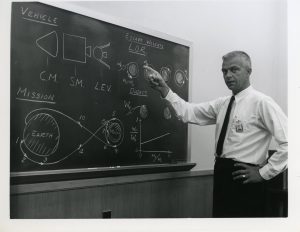 Houbolt was a NASA aerospace engineer from Joliet, Illinois who developed the unpopular idea that to land a man on the moon and return safely, the only way was to use his concept of Lunar-Orbit-Rendezvous (LOR) and a lunar landing module. At the time the prevailing ideas for landing on the moon were Direct Descent or Earth-Orbit-Rendezvous. Neither of which would be cost-effective or feasible. The Lunar-Orbit-Rendezvous eventually became the ideal and safest way to accomplish a moon landing.
There are always scientists and engineers who may be responsible for the success of historic events but who remain anonymous to popular history. Without Houbolt's idea and persistence, this event would not have been possible. So that he is not just a footnote in history our exhibit opens a window into the work and life of John C. Houbolt.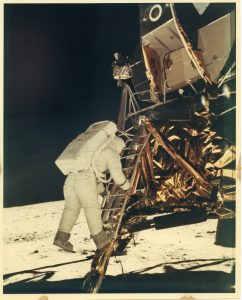 [youtube https://www.youtube.com/watch?v=hxPbnFc7iU8?controls=0&w=560&h=315]
For an informative account of Houbolt's contribution visit NPR's 1A interview with Todd Zwillich, "Fly Me To The Moon: Apollo 11 and The Unsung Hero Who Made It Happen"